I remember when I was working in this town planning consultancy, my boss, a Greek origin often brought the yummy baklava for our morning tea. The first time I tried baklava, I didn't give it a very good credit as it's very sweet with sticky honey and sugar! However, I started to love the taste of it last year during my pregnancy as my sister's friend gave us a box of baklava. Perhaps it's the pregancy that made me craving for sweet but I had to admit that the fresh nuts and the aroma of cinnamon rolled into filo dough are just perfect for tea!
Here is my first attemp in making baklava.
Ingredients
375g (1 packet) filo pastry
180g butter, melted & cooled
2 tsp water

filling

150g walnut pieces
150g unsalted pistachios
55g (1/4 cup) caster sugar
1tsp ground cinnamon

honey syrup

1 375g jar honey
165g (3/4 cup) sugar
250mls (1 cup) water
1 lemon, rind finely grated and juiced
Method
Preheat oven to 180°C To make the filling, spread the walnuts on a baking tray and lightly toast in the preheated oven for 5-8 minutes or until aromatic. Cool.

Combine walnuts, pistachios, sugar and cinnamon in the bowl of a food processor and process using the pulse button until they are finely chopped.

Remove the filo pastry from its packet and lie flat on the work bench. Cover with a dry tea towel and then a damp tea towel. (This will keep the filo from drying out while making the baklava.)

Brush a shallow 18 x 28cm cake tin with some of the butter. Take 1/3 of the sheets of filo. Brush the top sheet generously with butter and fold into thirds to make a rectangle the size of the tin. Place in the base of the buttered tin and brush surface with butter.

Continue layering with the left over 1/3 of pastry. Spread 1/2 of the nut filling over the filo to cover. Layer 1/2 of the remaining filo sheets as before. Spread left over nut filling over filo and top with the remaining layered buttered filo sheets. Lightly brush top with remaining butter.

Using a sharp knife, cut a diamond pattern into the top layer of filo and sprinkle with the water. Bake in preheated oven for 30 minutes. Cover with foil and cook for 45 minutes longer or until the filo layers are cooked through.

Meanwhile, to make the honey syrup, combine honey, sugar, water, lemon rind and juice in a saucepan and stir over high heat until sugar dissolves. Bring to the boil and maintain over medium heat for 10 minutes or until the syrup has thickened slightly.

Remove from heat and allow to cool. When cooked, remove baklava from the oven and immediately pour the cooled syrup evenly over the surface. Stand to cool completely. Cover with foil and store at room temperature in the tin for up to 2 weeks.

Cut into diamond shapes to serve with espresso coffee or as a dessert with whipped cream.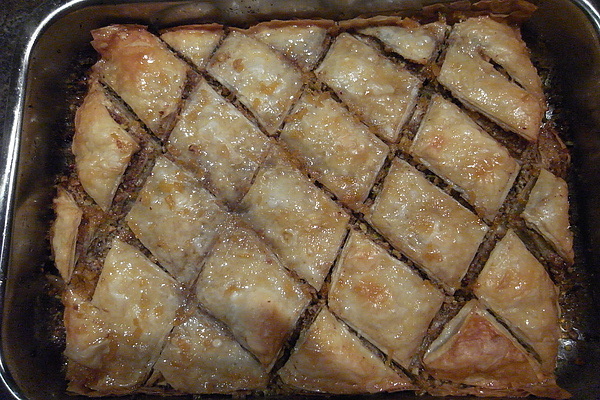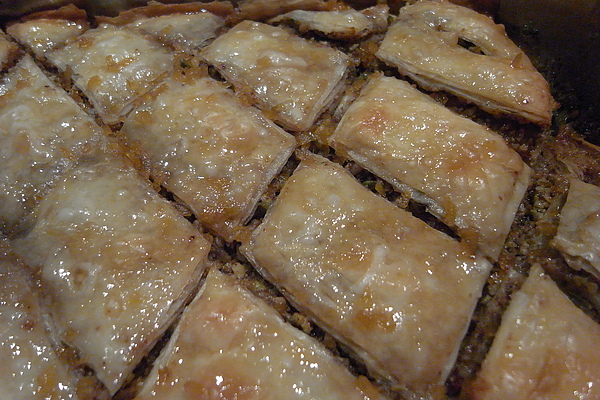 The outcome looked good but I found the syrup is having too much lemon and a little too sweet. Less lemon and sugar next time (making mental notes)! Apart from that, the pistachios shall be also lightly toasted to bring out the nutty aroma. I gave myself an average rank.